We offer a customised tower kit to suit your specific needs. Build your own system or let us do it for you with an all in one compact solution.
 Electrical Equipment
Box
-
Basic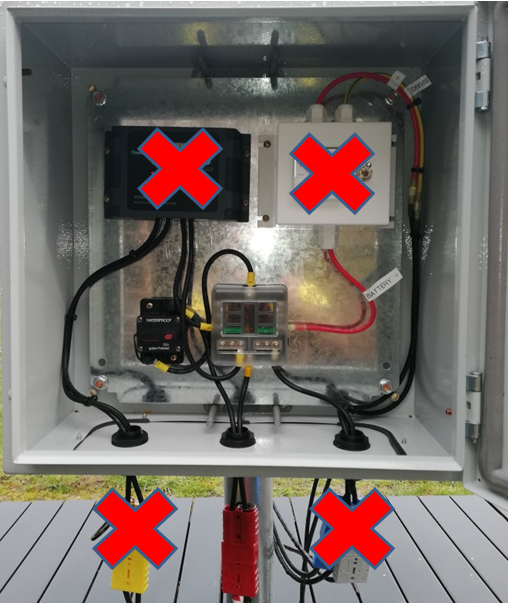 If you want a fully stand-alone system that is just plug and go we supply a tower mounted electrical equipment box that has all of the required wiring and connection points needed. If you already have a turbine then this is what you want, it includes:
1. Steel powder coated professional electrical box that is 400mm x 400mm x 200mm (water proof).
2. Three 25mm cable glands in base.
3. A six port electrical fuse box.
4. 50amp thermal circuit breaker for main power connection to battery.
5. Red Anderson plug with one end pre-wired into circuit breaker. Other half is supplied for battery connection. Note coloured Anderson plugs only connect to like coloured anderson plugs.
6. All required internal wiring is installed with ring connectors.
7. Pre-mounted on turbine tower with appropriate U-Bolts.
Price (Installed to Tower): AUD$349
Electrical
Equipment
Box
-
Turbine
Ready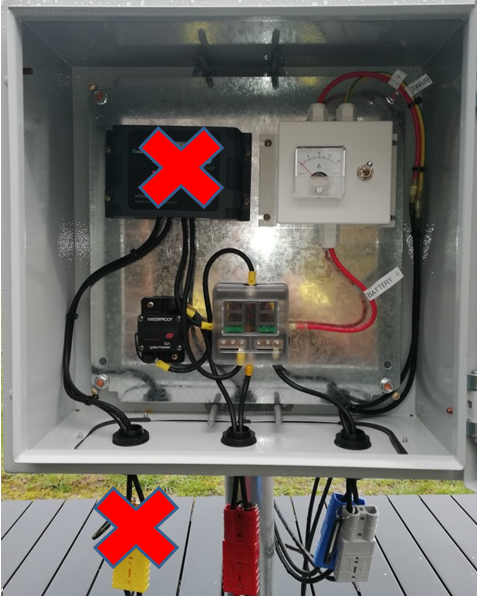 If you purchase one of our turbines then this is the electrical cabinet you need. It includes everything in the basic cabinet plus the anderson plugs and wiring to the turbine controller and/or to the fuse box with the appropriate rated fuses.
Price (Installed to Tower): AUD$399
Electrical
Equipment
Box
-
Turbine
and
Solar
Ready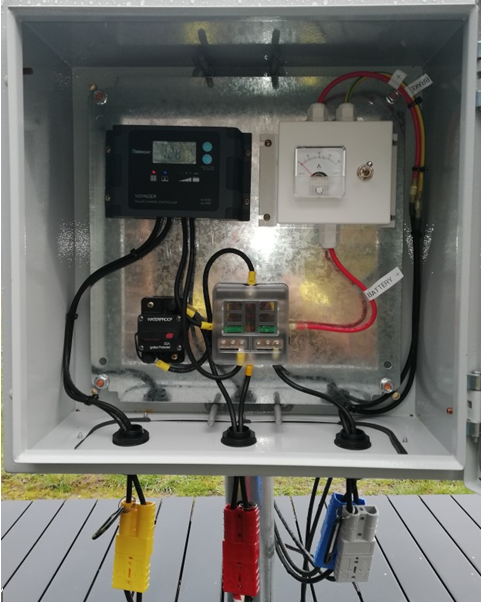 Because wind and solar are such good partners we can supply the electrical cabinet with a quality solar charge controller. All you need to do is connect your solar panel. This includes everything in the basic and turbine ready plus:
1. Quality Renogy 20Amp PWM Controller that is suitable for all lead acid battery types (AGM, GEL and Flooded) as well as Lithium based chemistry. This controller also has the required wake-up circuitry for completely flat Lithium batteries. Why only PWM over MPPT? Well for any solar panel under about 300 Watts MPPT offers marginal benefits at three times the price. You can connect any solar panel up to 300 Watts.
2. Required yellow anderson plug preinstalled with all internal wiring to fuse box and appropriate fuses (other half of anderson plug supplied).
Price (Installed to Tower): AUD$599
Other
Accessories:
We can add other accessories to your requirement such as:
1. External USB Chargers.
2. Floodlights with external waterproof push button switches.
If you need any custom accessories please let us know and we will quote price on application.
To place an order please send us a request via our contact page.